American Planning Association Designates Pensacola's Palafox Street a Top 10 Great Street for 2013
Gateway Status, Pedestrian Qualities Standout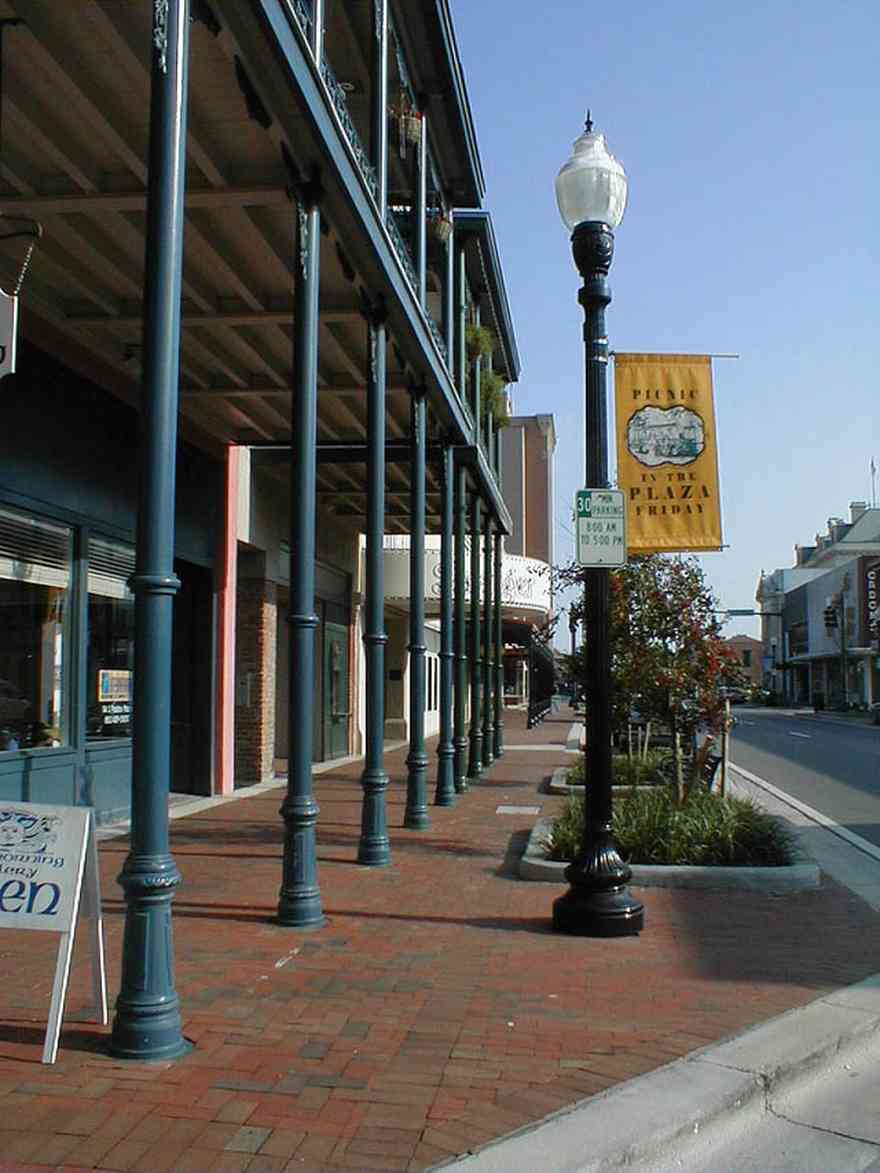 The American Planning Association (APA) announced the designation of Palafox Street as one of 10 Great Streets for 2013. Each year during National Community Planning Month, APA's Great Places in America program names 30 exemplary streets, neighborhoods and public spaces to highlight the role planning and planners play in adding value to communities, including fostering economic growth and jobs.
APA singled out Palafox for its European influences, eclectic mix of Spanish Colonial and Chicago School architecture, expansive medians and sidewalks, and the planning that has helped turn the street into an attractive and successful gateway to downtown Pensacola.
"For hundreds of years, Palafox Street has been at the center of life in our city," said Mayor Ashton Hayward. "Over the past three decades, our community has reinvested in Palafox Street and, as a result, Palafox has once again become the anchor to a thriving, vibrant downtown and a city in renaissance. I believe that a great downtown is the heart of any great city. Palafox Street is a big part of why Pensacola is such a great place in which to live, work, and play, and we are excited to see it recognized as a Great Street," Mayor Hayward said.
"Historic architecture, spacious plazas, an attractive median, and wide sidewalks make Palafox Street a wonderful artery for pedestrians and motorists alike," said APA Chief Executive Officer Paul Farmer, FAICP. "Planners also helped improve business activity along the street and enhanced Palafox as a successful entrance to downtown by converting the street back to a two-way thoroughfare," he added.
Shaped by 250 years of British, Spanish and American influence, Palafox Street's ornate buildings with sidewalk balconies juxtapose Spanish Colonial with Chicago School architecture. Two public spaces anchor the street -- the Spanish-designed Plaza Ferdinand on Palafox between Government and Zaragoza Streets, and the Martin Luther King Jr., Plaza. The plaza, located on Palafox at the intersection with Garden and Write streets, hosts one of the country's most-celebrated year-round farmers markets.
Besides the city's downtown gateway and main artery for businesses there, Palafox is the main stage for holiday and seasonal celebrations. The city's New Year's Eve Pelican Drop occurs at Plaza Ferdinand and draws more than 50,000. The annual Mardi Gras Parade, which follows Palafox and contains more than 200 floats, attracts 6,000 participants.
Guiding the plans and measures that have helped preserve the street's historic character and enhanced its contributions to the local economy have been Pensacola's Historic Preservation, Architecture Review and Downtown Improvement boards.
APA's Great Streets, Great Neighborhoods and Great Public Spaces feature unique and authentic characteristics that have evolved from years of thoughtful and deliberate planning by residents, community leaders and planners. The 2013 Great Places have many things Americans say are important to their "ideal community" including locally owned businesses, transit, neighborhood parks, and sidewalks. They illustrate how the foresight of planning fosters communities of lasting value.
The nine other APA 2013 Great Streets are: North and South Walnut Street, Milford, DE; Kalakaua Avenue, Honolulu, HI; Bridge Street, Las Vegas, NM; C Street, Virginia City, NV; Market Street, Corning, NY; Benjamin Franklin Parkway, Philadelphia, PA; Broadway, Jim Thorpe, PA; The Strand, Galveston, TX; and West Beverley Street, Staunton, VA.
For more information about these streets, as well as APA's top 10 Great Neighborhoods and top 10 Great Public Spaces for 2013 and previous years, visit www.planning.org/greatplaces. For more about National Community Planning Month taking place throughout October visit www.planning.org/ncpm.
The American Planning Association is an independent, not-for-profit educational organization that provides leadership in the development of vital communities. APA and its professional institute, the American Institute of Certified Planners, are dedicated to advancing the art, science and profession of good planning -- physical, economic and social -- so as to create communities that offer better choices for where and how people work and live. Members of APA help create communities of lasting value and encourage civic leaders, business interests and citizens to play a meaningful role in creating communities that enrich people's lives. APA has offices in Washington, D.C., and Chicago, Ill. For more information, visit www.planning.org.
Posted in